23 May website updates
Author: Cybersnake - 23rd May 2017 10:28 pm GMT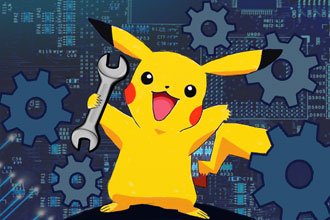 Hello trainers!
Another month, another update. And we'd like to tell you about the website updates that we made during the month of March and April. Here we go!
Visible updates:
Modified website line height to be 1.25, this means that text will have more space and will be easier to read
Modified website text to be dark-grey from light-grey, to improve readability
Added km's amounts to buddy candy and to egg distances tables
Made pokemon blocks smaller in the information tables so that more pokemons fit on one line
Enhanced link visuals on news articles so that links become more visible
Adjusted the "all news" page, put news articles in blocks and added images to them and of course a slick animation effect, moved russian translations to another page
Adjusted news articles layout, now the news article will have a big centered main image, and a "more news" block at the bottom that features previous/next news links and 3 random news
Adjusted pokemon image sizes on candy and egg distances tables
Refined the profile-menu functionality, now it will look and feel as the primary menu
Corrected main menu functionality, if you click on a menu option it will close/open suboption and not close them everytime
Modified main layout slightly, the left column should will show at the bottom, and not at the top, for mobile devices
Enhanced registration process, removed register button from main tool-bar and added it to the login panel. Added the question mark button to the login panel to add a little more information about the registration process
Fixed the loader image on the login/register panels and also put it in line with the register/login button
Corrected highlighting on main-menu links, now they will be highlighted when properly hovering over the menu options
Adjusted the main menus slightly, menus will open/close faster and not overlap over other information
Created an About Us page
Corrected login with facebook/google social networks, if user selects to enter without email, the system will throw a warning now
Invisible updates:
Adjusted registration system: Added activate account functionality so that people don't write inexisting/someone else's email when creating accounts
Created functionality to link social accounts to the pogostop account, now you can create an account on the website and then access it with a social network account easily, or login with your social netowork accounts only
Created admin functionality, this will allow us admins to easily add items or update them on the website
Added possibility for admins to add/edit news articles
The present
The most important and wanted update for us was the admin functionality and the news addition/edit functionality, since we really had a hard time to put news on the website. We are also proud of the new updated "news articles" visuals, we think that it's much better than what we had previously.
The future
After these critical updates to the website we are working on brining more useful Pokemon Go content to the webiste.
Our next update will include an enhanced pokemon moves list, a pokemon list page that will be quite similar to the pokemon stats table, but will a little twist, and of course the pokemon page, where you'll be able to see more information about the pokemons themselves. We also want to add a best attackers and best defenders lists.
It's still early to tell you but, we are also working on a calculator that will help you choose the best pokemons against the current gym defenders be it for bringing down enemy gyms or prestiging in your team's gym.
Hopefully you're as excited for the future as we are, happy hunting trainers,
Pogostop administration
P.S. We want to show you a quick sneak-peak of how the current pokemon page looks, so that you can compare that to the finished page when we put it online ;)